Francois Salama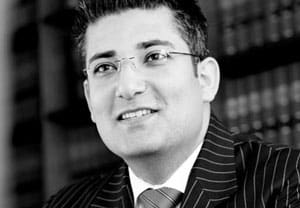 Prior to being called to the Bar, Mr Salama worked in smaller suburban practices and also worked for a time at mid-tier firm, CBP Lawyers (formerly Colin Biggers & Paisley). Mr Salama also worked as a volunteer law clerk for 5 years at a reputable set of Chambers where he was exposed to large scale litigious matters including Building & Construction, Contracts, Succession, Probate & Estate disputes, Corporate Insolvency, with some of the most highly sought after Queens Counsel and Senior Counsels in the jurisdiction.
Mr Salama was awarded a Bachelor of Laws, Bachelor of Science (Information Technology) and a Diploma in Information Technology Professional Practice from the University of Technology Sydney.
Mr Salama has experience in general Commercial Law with a specific emphasis on the following areas: Equity, Succession/Estate Planning/Wills & Probate including Family Provision, Building & Construction Law including complex engineering and construction disputes, Insolvency Law (Corporations & Personal Insolvency), Consumer Protection and Real/Personal Property Law.
In addition, Mr Salama has published a number of academic articles and regularly presents at academic conferences on recent changes in the law in which he practices.

Areas of practice
Bankruptcy
Building and Construction
Commercial
Corporations Law
Criminal
Equity
Family Provision
Insurance
Intellectual Property
Property
Succession, Wills and Probate
Trade Practices and Competition
Articles
"Agricultural And Rural Finance Pty Ltd v Gardiner and Another (2008) 238 CLR 570 – The meaning of punctually and the truth about waiver" (2009) 43 LSJ 3
Recent CLE Conferences and Seminars Presented
"Interlocutory Applications" – The Law Society of New South Wales – Young Lawyers Annual Civil Litigation Conference, Sydney March 2010.
"Urgent Injunctive Relief in the Supreme Court" – City of Sydney Law Society, Sydney, 4 July 2012.
"Building & Construction Industry: Fast Track Payments & Maximise Cash Flow" – Coleman Grieg Lawyers, Sydney, 20 March 2014.
"Building & Construction Update: What you need to know about the Building And Constructions Industry Security of Payment Act 1999 (NSW) and the proposed changes to the Home Building Act 1989 (NSW)" – Clarke Kann Lawyers, Sydney, 4 December 2014.
Contact information
Phone: (+61 2) 9335-3048
Fax: (+61 2) 9335-3538